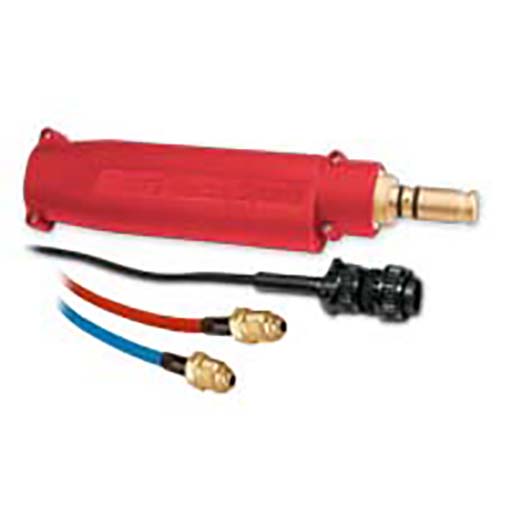 Call 1.800.225.8247 to Order
Python MIG Gun - 25 ft - Lincoln-Compatible - 400 A
When you combine power, performance, and reliability, you get the Python. Recognized throughout the industry as the most advanced aluminum push-pull gun available,the Python continues its tradition with unparalleled performance. Time tested rugged design developed to withstand the rigors of industrial production and provide hours of smooth wire feeding operation. When it comes to aluminum welding, the Python is your answer
Features
EZ-Lock barrel with 360° degree rotation. See pg. 79 for more options
Flex Barrel compatible.
Forward trigger operation
Right or left hand wire feed adjustment protected in the handle
CNC billet componentry
Ultra-Flex power cable
Balanced design provides hours of continuous wire feed without welder fatigue
Ergonomic handle
Full range of models available in 15', 25', 35' and 50' leads
For aluminum, steel, stainless steel, flux core wires
Python MIG Gun - 25 ft - Lincoln-Compatible - 400 A
When you combine power, performance, and reliability, you get the Python. Recognized throughout the industry as the most advanced aluminum push-pull gun available,the Python continues its tradition with unparalleled performance. Time tested rugged design developed to withstand the rigors of industrial production and provide hours of smooth wire feeding operation. When it comes to aluminum welding, the Python is your answer
Features
EZ-Lock barrel with 360° degree rotation. See pg. 79 for more options
Flex Barrel compatible.
Forward trigger operation
Right or left hand wire feed adjustment protected in the handle
CNC billet componentry
Ultra-Flex power cable
Balanced design provides hours of continuous wire feed without welder fatigue
Ergonomic handle
Full range of models available in 15', 25', 35' and 50' leads
For aluminum, steel, stainless steel, flux core wires